Automatic door openers are surely a boon to this present generation. We use a lot of expensive and useful devices regularly and push-button automatic door openers are a good add on in this collection. They are perfect for the people who have elderly people in the home. It becomes a mandatory option for those who look for convenience and security at your home for their elderly members. They are known as handicapped door openers and much more convenient with the wire push button or wireless push-button switch. The wire push device should be installed in the door body or the wall of your home. But the wireless push button can be stuck anywhere. There is a wide range of door openers are available today with push buttons like panel door openers, roller door openers, swing door openers, sliding door openers, etc. An ADA Push Button Automatic Door Opener is surely a bliss for the disabled person at your home. It is low energy and you can just push the switch without any manual push force and then the door will be opened and closed automatically.
The Push Button Automatic Door Opener is made of high-end aluminum or metal materials so they are ready for any type of wear and tear. They come with a high-quality motor that ensures fast speed. It ensures a smooth and stable door opening operation too. As it comes with different microcomputer controller and transistors, they perform more intelligently. They have multi-functional interfaces with an electronic lock system.
The new integrated microcomputer controller will never cause the motor burnout caused by unstable voltage,it has more stable performance.
Debugging the code can be done only once, there is no need to repeat debugging like the old model.
The automatic swing door opener DSW-100N will automatically open and close the door when the power is off, it is safer in case of an emergency.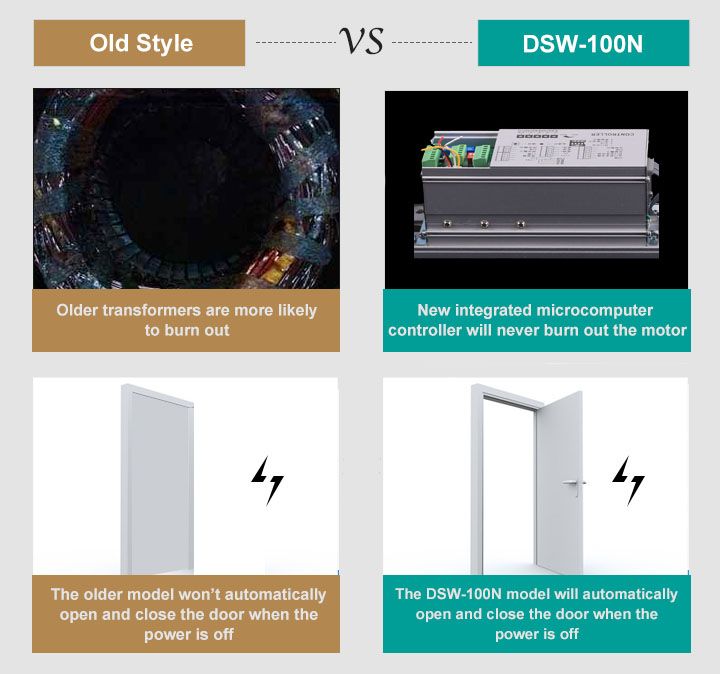 Internal Structure of Push Button Automatic Door Opener DSW-100N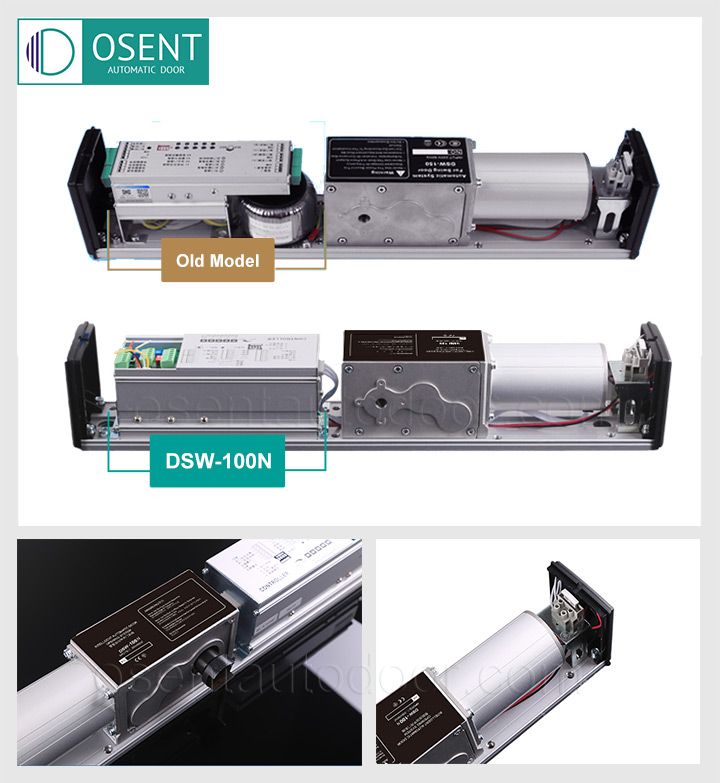 The remote controller uses a stainless steel panel with a protective cover and key chain.
DSW-100N TECHNICAL SPECIFICATION
Door form
single door
Max.Weight of Body
100kg
Door Width
≤1200mm
Opening and Clothing Speed
3~7s (adjustable)
Holding Time
1~30s (adjustable)
Power Input
AC220V/110V , 50/60Hz
Product Size
540×95×82 (mm)
Product weight
6.5kg
Drive arm
push arm / pull arm
INSTALLATION
When you are buying such door openers for your home, you need to keep in mind a few things:
First of all, you need to find an experienced and reliable offline or online store wherein you can purchase the best quality push-button door openers. The best way to find the right product is to consult an expert. You can contact a good construction company or a renowned builder from your area.
These people are usually well aware of such smart, new-age devices and can give you the right suggestions about buying the right door opener that will cater to your requirements and will suit your budget. And if you are interested in our products, you can also send an email to us to get the quote. Osent staff will suggest the best product as per your requirement.
---
Get a Free Quote
Please complete and submit the form below, We aim to respond to your email inquiry as soon as possible.