Introduction
The DBS50 Automatic telescopic sliding door operator is suitable for the application that needs a wide opening and offers a great benefit when space is limited. It is a double rail door system. All the door leaves are driven at the same time. It has great performance with a clean and elegant design.
IOS:9001 and CE certificated.
Wide door opening.
High standard of safety.
Quick installation, easy maintenance.

Features
-The telescopic door leaves are driven by the tooth belt with stable operation.
-The microcomputer controller is highly intelligent that the parameters can be automatically adjusted to the best status. It can also adapt the system to different door leaf weight without manual programming.
- High strength aluminum alloy rail is strong and durable. It can be easily installed.
- High-quality rubber strips are embedded on the rail, which can absorb vibration and noise during operation, and the doors run quietly.
- The telescopic sliding door will stop and return from an obstacle to ensure safety.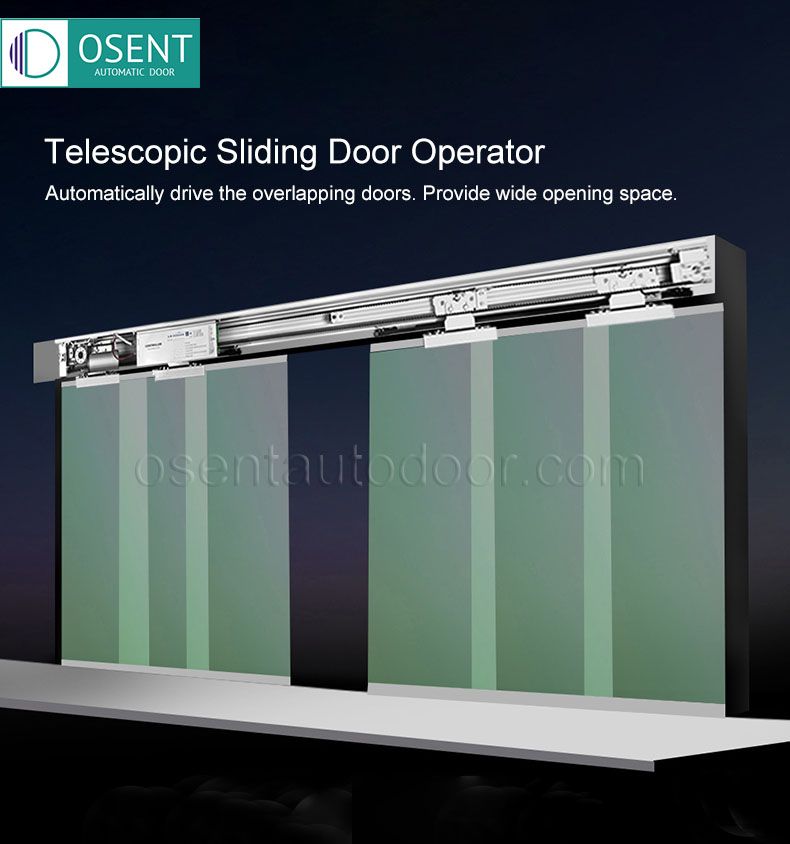 Components of Telescopic Sliding Door Operator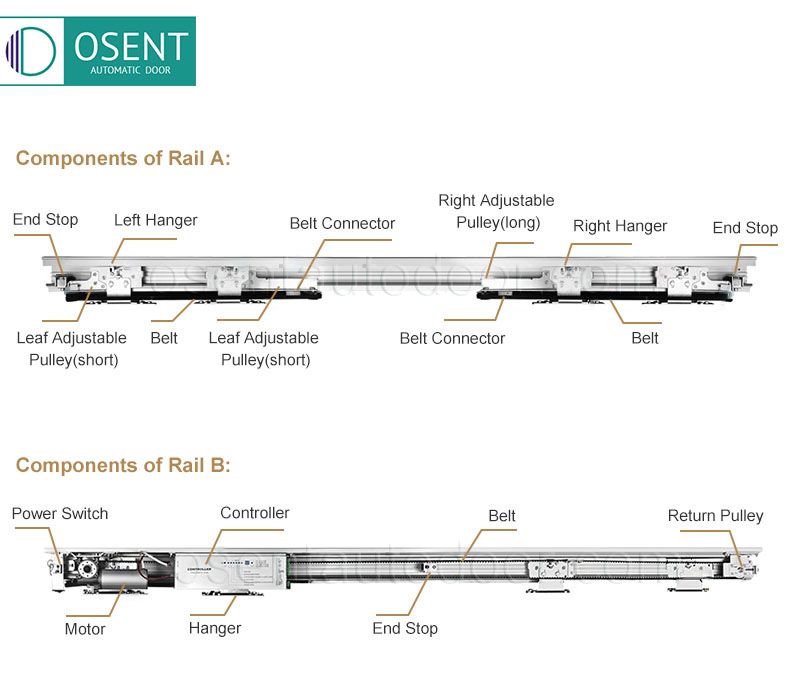 Note: Rail A and A's accessories need to be confirmed before Rail B can be installed.
1. Firstly install all parts of track A, and adjust the position of components and door body.
2. Install all parts of track B, and adjust the position of components and door body.
Optional Accessories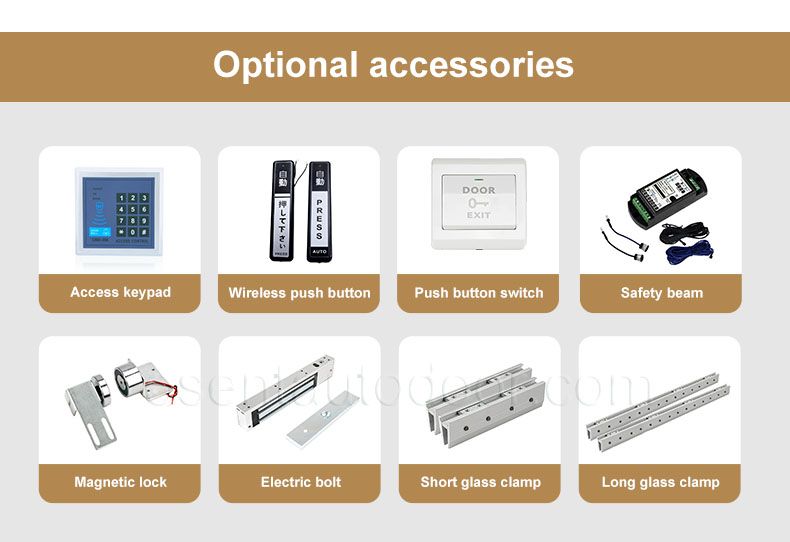 video on youtube
TECHNICAL SPECIFICATION
2-Leaf

4-Leaf

Max.Weight of Body

2*150kg

4*120kg

Opening Width

1200-2700mm

3900mm

Opening and Clothing Speed

100~550mm/s

Holding Time

0~60s

Motor Power

24V 100W 2300rpm

Manual Opening and Closing Force

<100N

Rollback Time

≤1s

Power Input

AC90V~240V 50~60HZ

Operating Temperature

-20℃+50℃
Side View of Telescopic Sliding Door Operator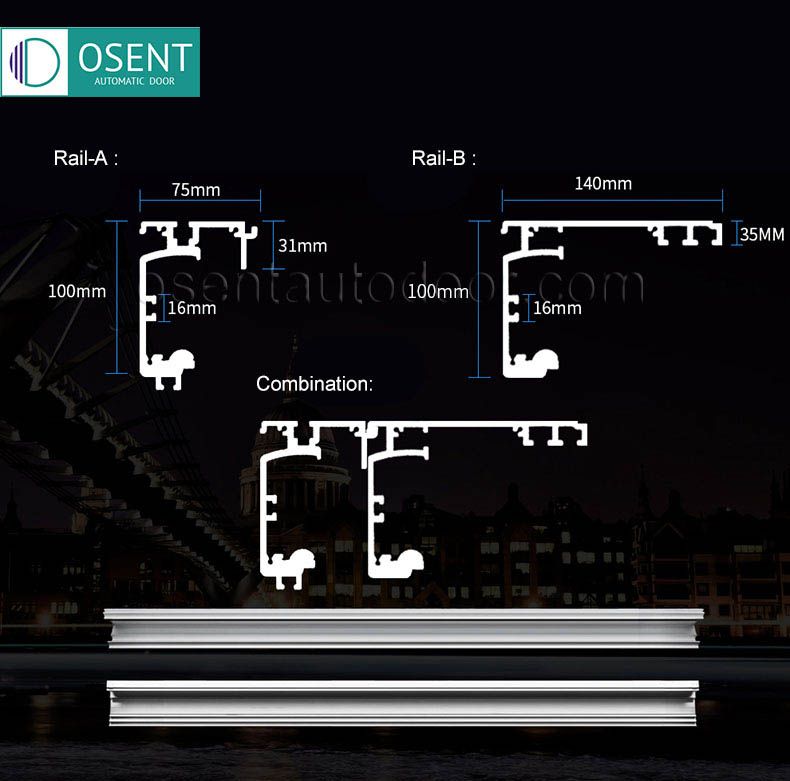 Drawing of Telescopic Sliding Door Operator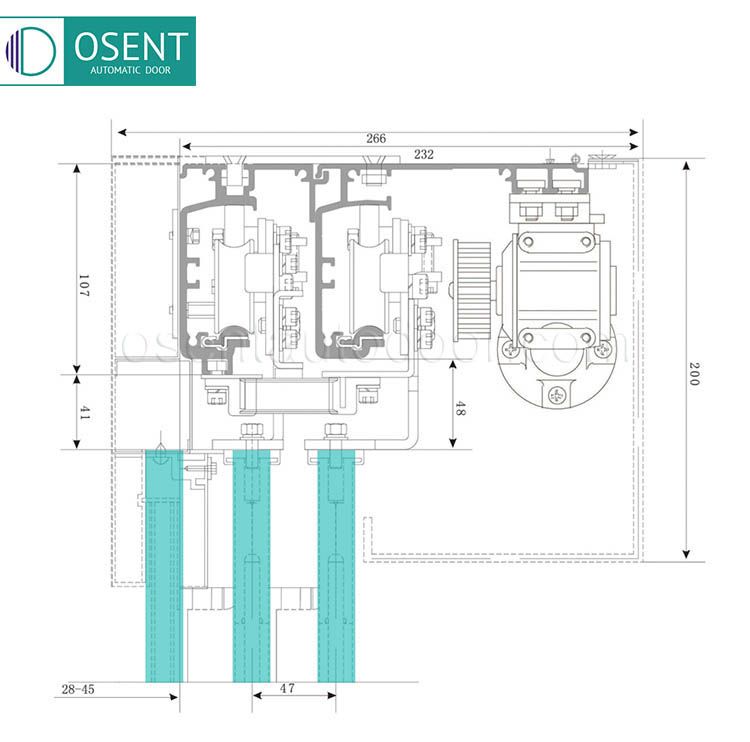 ---
Get a Free Quote
Please complete and submit the form below, We aim to respond to your email inquiry as soon as possible.